Opening
Thursday 14 March
6–8pm
with sound performances from Jokūbas Čižikas
Opening Hours
Wed–Sat 12–4pm
Late Night Art
12–9pm
"THIS IS LIFE AND NOT A FANTASY"
Ieva Rojūtė
Ends 06 April 2019
The trigger for this project was a Lithuanian shop which I passed daily on my way into town. It had three large shop windows and sold food from Lithuania. Quite unusually, it also had shelfs stacked with second hand books, a small library of Lithuanian literature. One window space was filled with second hand children toys, prams and clothes. It all had a very personal touch and seemed to champion a different, alternative economy. Maybe it was a small Lithuanian community centre with an attached grocery store? The shop closed half a year ago and is now a tanning studio.
This was my first contact and inspiration of Lithuanian culture in Belfast.
A lot of my thinking in relation to the Lithuanian project now has to do with Brexit, with lots of sadness and the fear of diminishing cultural exchange with Europe. Everything is overshadowed by Brexit and the final decision to leave Europe with or without a deal, a delay or maybe a second referendum falls into the time of this project "THIS IS LIFE AND NOT A FANTASY".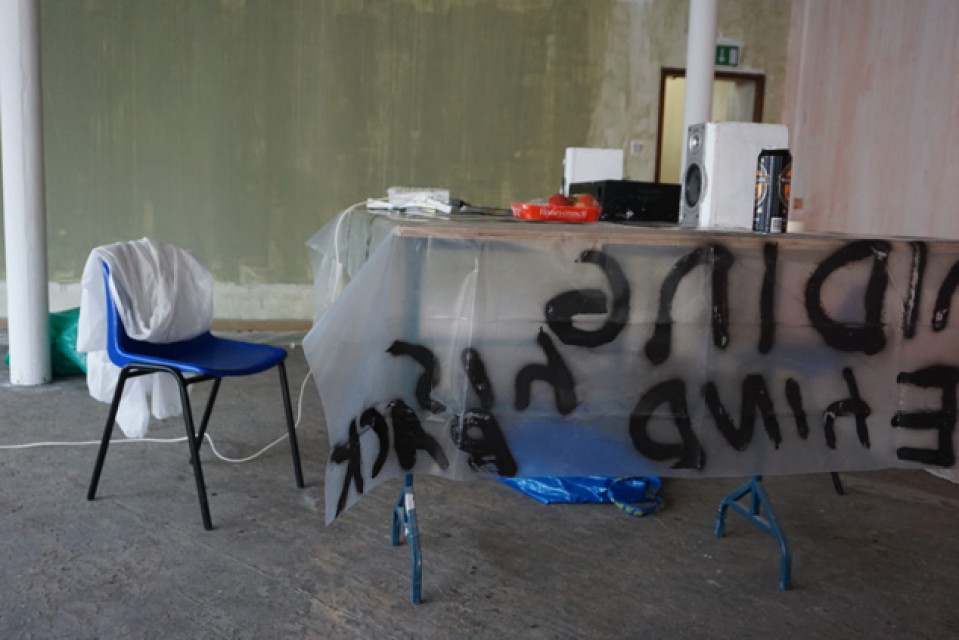 09.03. work / installation in progress
Ieva Rojūtė writes about her work:
'In my works, I explore connections between people, the family construct, conflicts in the individual's identity and everyday folklore. The main themes I keep revisiting are the possibility of failure, misfortune, anxiety and fear. I'm interested in this insistent assertion of one experience at the expense of other experiences that we can see playing out in many of today's touchy issues as well as personal lives. I take a trip across the collective subconscious, from childhood complexes to the most primeval common past or dreams.
I make use of street art aesthetic and, at first glance, it may seem like an infantile approach to accessing deep-seated and shared experiences. By deconstructing literature, abstract folklore, oral hybrids and dreams in my installations, I look for continuity and dialogue. When I take part in group exhibitions, I seek and respond to works that are put next to mine. At the same time, I want to discover and analyze folklore through personal experience, I am after new ways to turn a verbal construct into a space to go to. Usually the place is unpleasant, one where you would not want to linger. The main goal is to have my pieces resonate with the viewer and the space they're put into.
Sweet Look is one of my latest attempts to trace the conflict between the supernatural and the human. The installation speaks of a human being in need of being rescued from something. I construct a certain message from personal experiences, diary entries, hearsay. It is not the first time I find myself in a role of questioning self-preservation (e.g., Vaikeli, tu pražūsi (You Will Perish, My Child), 2013, Abstraction Will Destroy You, 2017). The topic tends to haunt me and remind of itself via different channels.'
From: 'MOTHER & TONGUE' by Ieva Rojūtė at Editorial, Vilnius
'Even though Ieva Rojūtė's work which employs words, painting and space, suggests itself as installation, its roots nevertheless mainly stem from language. Short, scattered phrases form a specific, visually perceived poetry. Its lines appear as if pulled out of a wider context; non-descriptive, they indicate a specific feeling rather than open into an elaborate narrative. A mélange of stolen random phrases, fragments of dreams (or perhaps nightmares), of erratic pieces of advice
strangely connected to various prejudices and folklore, it speaks about those awkward situations which are so painfully familiar to us all. Rojūtė is willing to address those uncomfortable states of mind, situations and feelings that we are so desperately eager to avoid, such as the constant fear of a possible great failure, disappointment, misfortune or a timeless anxiety. Still, their work is neither dark nor gloomy. It rather reminds us of certain secret hiding spots from our childhood days that offer a safety cover, where strange things happen, but one always finds a way out via a total freedom of behaviour.
The work by Rojūtė is saturated with familiarity; despite its subject matter, it bears an intrinsic positivity and, in its emphatically sinister outlook, is even funny. It provides us with a safe distance from which to look at our all-too-serious problems and then try and find a way of dealing with them, embracing rather than rejecting. That is likely why the visual form of their work is also somehow gawky, reminiscent of children's drawings who, having forgot the margins on a sheet of paper, have strayed far away and beyond them, conceiving their own world. Letters here are letters, and then they turn into objects, fancy leaves, herbs and other vegetation.'